Welcome to CEF of the Middle East ministries
Have you wondered what CEF® ministry looks like in the Middle East? With 28 countries, numerous languages and varied cultures, ministry can look a little different. However, we remain true to the purpose statement and culture points of CEF as we seek to evangelize and disciple the 750 million children in our region. We have 1/3 of the world's population of children living in our region and God has given us the vision and creative ways to be able to reach 1% of our population during the pandemic in 2020.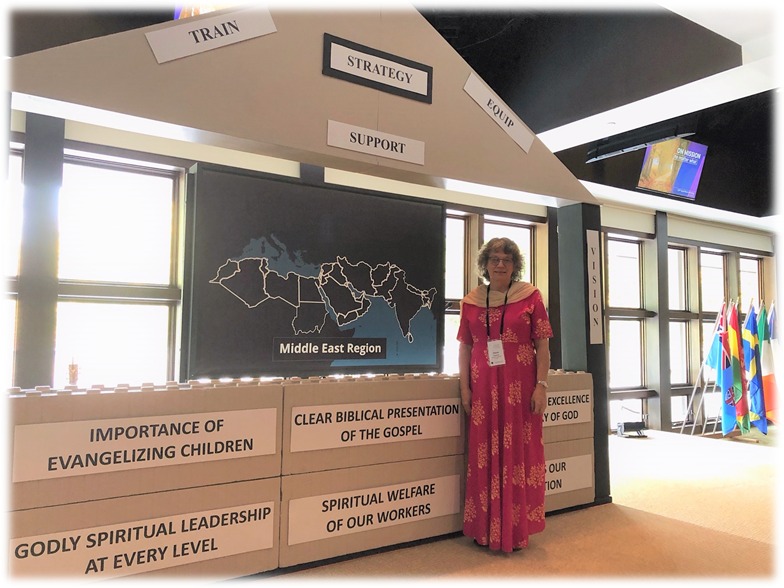 Have you ever considered your COVID mask as an evangelistic tool? Learn how one country used a mask to evangelize over 330,000 children in a few months.
When you think of COVID precautions, you think of washing your hands, social distancing and wearing a mask. Have you ever thought of your mask as a means of evangelism? This is exactly what happened in one country in our region. Listen to the testimony of our worker in his own words. By January 2021, the GNC ministry had grown by the grace of God. In March, it was a great joy to see more Good News Club trainings in more areas. We had finished making the materials for GNC in new areas and were about to set out to the area when COVID-19 started spreading. The government stopped all travel and after awhile, it became difficult to conduct Good News Clubs. Over 13,000 children from Islamic and Hindu backgrounds had been attending weekly, and now because of COVID-19, it became difficult for them to hear the Gospel and learn the word of God. The only thing I could do was to desperately cry out to God.
Many people who were praying for me all said, "The virus is spreading, so you should stop the ministry for a while. You can use this moment to prepare for the ministries in the future. Please come home to visit." As I received the messages and prayer for this issue, God gave me the heart to see not the virus, but the children who are dying in sin.
He also gave me the verses in Acts 5:40-42, "and when they had called in the apostles, they beat them and charged them not to speak in the name of Jesus and let them go. Then they left the presence of the council, rejoicing that they were counted worthy to suffer dishonor for the name. And every day, in the temple and from house to house, they did not cease teaching and preaching that the Christ is Jesus."  Even under difficult circumstances, the disciples did not stop teaching and preaching that Christ is Jesus.   
Through this verse, God showed me that although Good News Clubs were stopped, the ministry of preaching the Gospel cannot be stopped. I prayed, "How can we reach the children during this pandemic?" That night, an elder sent me a message, "Make masks!" I was wondering why he would suggest making masks late at night. As I prayed about this, God showed me the children who were so poor that they could not afford to buy masks." You're right, Lord. We should make masks and reach out to children" 
Early in the morning the next day, I met a brother from church who owned a sewing factory." Please start making 50,000 masks. I can't pay you now but I'll give you the money later." He asked why I needed so many masks, and when I said it was for reaching out to children, he agreed to making masks. He had received a big order from another country which had been canceled because of COVID-19. The workers were at the factory with no work. God had prepared everything to make the masks for His work. He supplied all the finances for making 50,000 masks so we could pay him. Hallelujah!
We made some visual aids for mask evangelism and went to the streets with the masks. "Why aren't you wearing a mask? If you don't have a mask, I have a spiderman mask I can give you. If you'd like to have this mask, give me 10 minutes. There is something more dangerous than the virus, and I'm going to tell you how to have victory over it." After 10 minutes of listening to the Gospel through visual aids, Muslim children accepted Jesus Christ as their Savior right on the streets. There are times Muslims approach us, suspicious of what we are doing. Then we flip over the visual aid and show them pictures explaining how to prevent COVID-19. I ask, "What do you have to do to be safe from COVID-19?" and the children would answer, "You said we should wear masks." The Muslims that saw this would say, "What you are doing is wonderful! Can I bring some children over to you?" and they brought more children to us.
As masks were being made, the staff met Christians in the unreached regions and had discussions to plan training programs for evangelism using masks. After a few days, the staff said, "We have planned for training in 21 regions, so 50,000 masks are not enough. We need at least 60,000 masks." I immediately called the factory and asked them to make an additional 30,000 masks. When the masks were made, the staff was divided into two teams to train evangelists in 21 regions and provide them with visual aids and masks. To prevent COVID-19, the trainees wore masks and sat with the distance between themselves. After the training in 21 areas, the staff and evangelists were filled with passion.
At this time, as the staff and I were waiting for the trainees in a classroom of an old school, we saw some young Muslim students coming towards us. I thought they were students of the school, but they walked into the classroom that we were in. They were from an Islamic background but had heard the Gospel from the principal and accepted Jesus Christ as their Savior. 30 trainees gathered and they were all teenagers. After the training, I asked them, "Can you preach the Gospel to children? How many children will you reach?" and they said, they would reach 60, 80 and 120 children. 
We gave them visual aids, masks, and the tract, "The Greatest Doctor." After a week, the principal of the school called us and said, "The mask evangelism is amazing! The Muslims don't try to stop us, and the students that were trained are reaching out to children so enthusiastically. I have more students in another region. Would you be able to train them so they can also preach the Gospel to others?" The students that had attended the training were hiding their faith from their parents. For them to preach the Gospel, they had to go to a village far away. However, they all preached the Gospel as they had promised. Not only these students but most of the trainees are also reaching their goals.
As of April 2, 2021, over 354,467 masks were made. 
Trainings were held in 144 areas, with 3,865 workers pledging to reach around 300,000 children. 
The total number of children reached was 343,372 with 138,663 making decisions to trust Christ as Saviour. 
100,000 more masks have been ordered and so this mask evangelism program will continue to the glory of God! 
May the Lord guide you to start your own mask evangelism!
Ministry Without Borders!
A look at online VBS in the Middle East
A snapshot of GNC™ in the Middle East
It is against the law in some countries to gather in homes except for holidays and a family  celebration. GNCs are held in Christian schools. Many of the teachers and the children are unsaved.  In many of our countries,
to be "Christian" just means to be non-Muslim. The children of this orphanage gladly welcomed an American visitor to their GNC.
One girl who used to live in this orphanage contacted the CEF worker. The girl says she is married, and she is still reading the Bible she received at GNC. In some countries CEF can only conduct GNCs within a local church. GNC are held wherever children can gather. Some volunteers may walk for two days over the mountains to get to a GNC location. This GNC is being held at a school where there is no heat. Many of these children have lost their homes due to war in their country. They are hungry physically and spiritually. Over 100 children crowded each week into a tent in the refugee camp before the Iman threatened to burn down the tents of the hosts. Sadly, the GNC had to end, BUT… now the children are watching a GNC on a cell phone in the same tent where they used to attend GNC each week. It had been over a year since the GNC had to stop in the refugee camp. It is dangerous in many places to conduct meetings for five days with the children, so workers have 3-Day Clubs instead to avoid being arrested. For the very first time, GNCs are being recorded for airing on satellite TV.  20 episodes been recorded in Malayalam, Hindi and Tamil for 3 different satellite companies. God brought these opportunities to CEF. Singing is an important part of GNC in every country. In a few countries, preschool GNC are being started as workers have recently received the "Little Kids" training. Some GNC meet in homes. These children are praying after hearing "Turned Around" in their own language. A special guest has come to this outdoor GNC. They are waiting to hear the Good News. Will you help?
Christmas Across Middle East Lands
Christmas Across Middle East Lands is more than just Christmas Party Clubs. The program involves training workers, equipping them with materials, and a special event for children.
Christmas Party Clubs (CPCs) can lead to new Good News Clubs® being started and greater involvement in the ministry by volunteers, churches and other organizations.  CAMEL can result in exponential growth in ministry. Christmas Party Club training seminars are conducted starting in November. Volunteers are provided with a free kit which includes a lesson text in their own language, full-color visuals, memory verse, review game and a "Christmas Party" sign to advertise their club. Volunteers receive their kit at the end of the three-hour training when they turn in their commitment cards. Those who signed the book were committing to teach many CPCs. Volunteers are receiving their materials and signing up to teach CPCs. Because of the lockdowns for  COVID-19, some trainings had to be conducted via Zoom or pre-recorded. Materials were shipped to those who could not attend a training in- person or they were provided with digital files. One worker wrote: "We used internet to reach the children. My friend went to a slum area…and through Zoom she connected me and the children so that I could share the Gospel. COVID taught us ways to reach out." "Never thought I could do 17 CPC's during COVID. This showed how much children are waiting to hear God's Word. We need to say Lord I'm available. Lord can and will do wonders with you. More than 1200 kids reached. Few took decision for the Lord. Few places became Good News Clubs for future. God is wonderful and proved his faithfulness during CPC in COVID."  One young man attended the CPC training and accepted the Lord Jesus Christ while he was listening to the story. He testified "that till 24 years, I didn't know the Lord Jesus Christ, but I was a Sunday school teacher for 6 years. Only now I accepted the Lord Jesus as my personal Savior. Therefore, I dedicate my full life for preaching the Gospel to the children." "[We] came to play in the ground nearby. We played games and learned many new things…this new club for children is a lot of fun. We also learnt that Jesus' birthday is celebrated as Christmas festival but never knew that He died for my sins and came alive now. Now I know that Jesus came to save me and one day I will be with him in heaven—This is really Good News of Joy. I want my family also to come with me." "Two little girls from a strong Hindu family accepted the Lord Jesus Christ at a CPC. One of the girls died suddenly from an accident, but her sister was very happy instead of crying. When asked her why she was not crying, she said that her sister will be with Jesus because she gave her life to Jesus. Her father was against Christianity and this statement made him more angry but the girl is confident her sister is in Heaven." Villagers would not allow a CPC to be taught inside their village, so the club was taught outside the village. After one week, a villager who had opposed the club went to teacher's house and said, "The few children who attended became very different. When we asked them how they became very good, the children unanimously said that Jesus is in our lives—He changed us to be good."  As a result, the village allowed a CPC. CEF seeks to partner with churches and other Christian organizations for the CAMEL project. Churches have seen the effectiveness of CEF training seminars and ministry to the children. Some churches have started Sunday Schools for children for the very first time. Pastors are eager to have more training in their churches and to start Good News Clubs. When volunteers see the fruit from the CPCs they want to get involved in teaching Good News Clubs. One  pastor said, "We are so blessed by the CPC material you gave freely. We could share about Jesus to many poor children." Children enjoy playing the games and making a simple craft at the smaller clubs.
Statistics for CAMEL 2020
# trainings conducted: 4,973
# volunteers trained: 90,138
# Christmas Party Clubs: 196,844
# children reached: 6,771,844
# children counseled: 2,849,732
We praise the Lord for the number of trainings conducted and children reached in 2020 in spite of COVID.
     Christmas Across Middle East Lands is more than just Christmas Party Clubs. The program involves training workers, equipping them with materials, and a special event for children.
Statistics for CAMEL 2020
# trainings conducted: 4,973
# volunteers trained: 90,138
# Christmas Party Clubs: 196,844
# children reached: 6,771,844
# children counseled: 2,849,732
We praise the Lord for the number of trainings conducted and children reached in 2020 in spite of COVID.
See what The Lord is doing with CAMEL
    Greetings to all in the matchless name of the Lord and Savior Jesus Christ. I thank Lord for this great opportunity to stand here as a witness in front of all of you. The year 2020 was a year of challenges, hurdles and surprises like for many of you. Many of the ministries including VBS 2020, where we were expecting about 1,000 children to attend physically, we had to cancel all of that for the first time and we were not clear of how do we continue with the ministries especially with many restrictions and lockdowns imposed by the government here. That is when the Lord reminded us from His word. From 2 Chronicles 20:17. Where it says, "You will not need to fight this battle. Position yourself and stand still and see the Salvation of the Lord. That's exactly what the Lord spoke to us. Was there a battle? Yes! Was there a pandemic that posed a threat to us? Yes! But it was the Lord of the battle that we trusted on.
It was about the month of August that we first received materials for the Christmas party club for Miss Diane. We also took the help of brother Jeremiah and the regional CEF team to help understand how do we conduct the Christmas party club. Why? because it was the first time "Bahrain" was conducting the Christmas party club. Imagine the year that we plan to do something for the first time. Well, trusting on the Lord, we attended the first CPC seminar conducted by "CEF of Kuwait." And another one conducted in December by the local team here to reach out to volunteers. We had 12 volunteers that came up. But still we had concern because we didn't have the technical expertise to conduct something like this online. And more than that, the challenge was, how do we reach out to families? how do we reach out to children? because the focus was mainly on unreached children.
We were quite concerned whether they would be skeptical to respond to the invitation at this point of time. Well, we still trusted on the Lord and we planned to have 3 CPCs, two on December 19th and one on December 26th. By Gods great grace, 76 children accepted the invitation and they came forward to the CPC's. But there was even another threat of challenge I would stay. As far as we were concerned in communicating and conveying the message that we intended to through the CPC's. Since we were doing it online, and since there were parents and families all together with the children at this time. We have restrictions in conveying the message at such. And therefore we decided why don't we carry out something like Christmas party gift time for all the children who are attending. So therefore we packed something like this, all something like this all interesting stuff for the children with sweet cookies and something like that but the main intention was we could include certain literatures like "How to get to Heaven" or one way themed and something like that. But the intention was these would start talking to the children even after CPCs. And not just the children, even families would know more about the Lords in the days to come.
And the days of the CPCs arrived. It was wonderful, wonderful experience. The children had a good time in learning many new songs and learning scriptures and even exposing themselves to the Good News of great joy. What a wonderful time we all had. And the greatest thing that we as coordinators could face was the positive feedback from the parents. we hope and pray that now in the days ahead we can have all these children come along and join us on a day to day basis through our Good news clubs that we have online. We also prayed at the parents also would be able to know the great love of the Lord in the days to come. Please continue to pray for the volunteers as well as they also rise up to the occasion and start many Good News Clubs which would be a foundation to reach many of the unreached children here in this place. Do continue to remember the ministry as well. Thank you all for your time and may the Lord bless you all have a nice day. Thank you.
The Greatest Doctor Tract
     Last year in mid-March, the regional director for the Middle East asked our staff to write tracts about COVID. Some of our Good News Clubs®  could not continue because of the lockdown and a tract could be an avenue to reach many children. We could never have imagined the impact this request would make in our region and around the world.
Last year in mid-March, the regional director for the Middle East, asked our staff to write tracts about COVID. Some of our
Good News Clubs®
could not continue because of the lockdown and a tract could be an avenue to reach many children. We could never have imagined the impact this request would make in our region and around the world. The Greatest Doctor tract was originally written in Arabic and then translated into English. This tract could be easily produced on small office printers. The artwork was revised by staff in Sri Lanka and then CEF International Headquarters edited the text and refined the artwork even further. The tract is in its second printing at CEF Press. Over 3 million copies have been printed in 16 languages in the Middle East to this date. You can look at the different languages from the Middle East region in our Digital Library on this conference site. Some other languages can be viewed on the cefonline.com/covid19 site. The
Stop the Spread
tract was written for saved children to help them deal with fear. This tract was also revised by CEF International Headquarters and is available from CEF Press. It has been translated into several languages. India has printed 2.3 million of the 3 million printed in the Middle East. They desire to print 5 million more because of its effectiveness. Testimony: "It was a timely message when there was fear of death and uncertainty and anxiety spread everywhere. Through this tract, even the older people and parents got to read it. I believe that through this [tract] they were able to know that Jesus is the only God who can save them from their sins. We pray that all those who read the tract will be convicted of their sin by the Holy Spirt and receive Jesus." Testimony:                                                 "I received a call from a man who wanted to talk to me about the Gospel tract. He is from a Hindu family. When I met him, he shared with me that before he read the tract, he was scared about the virus. He didn't know about Jesus Christ. He asked, 'Please give me one hundred tracts. I want to share with my tribe that Jesus is the true Lord who can save us.'" Tracts were distributed in many countries in various ways. Workers passed them out in churches, Good News Clubs, Party Clubs, and door-to-door. Volunteers, CEF staff, pastors and even children were involved in the distributions. Testimony: In one country while passing out tracts, a worker met a child who was mute. The child accepted Jesus as His savior. After that, he left and brought 14 of his friends to the worker. He pointed his finger to the tract the worker was holding which meant he wanted the worker to share the Gospel with his friends. All 14 of them accepted Jesus Christ as their savior because of that boy. We will only know the true impact of this little tract when we get to Heaven! Countless boys and girls, their families, and entire villages have heard the Gospel message through The Greatest Doctor in their own languages. These "paper missionaries" have gone to places an evangelist might never be able to go. Please pray for the children and adults who have heard this Gospel message. Pray that they may trust Christ as their personal Savior and have the courage to share about their decision with others. Will you prayerfully consider using
The Greatest Doctor
in your ministry?
Children Reaching Children
Children are reaching children for the Lord in the Middle East using Gospel tools provided by Child Evangelism Fellowship®
Ministry is happening in the Middle East Region
Hello My CEF family !
I'm going to share with you a testimony from Christmas season. One day, when I was going to the park to do CPC for children, I prayed to God to let me reach some children to put them in his mighty hand in this pandemic situation. So, as I arrived to the area, I was driving around the park and was praying & worshiping God. Finally, I parked my car and went to the park. I saw some children that were playing next to their tow mums. I went to them and asked them would you like to listen to the most wonderful story in the world! They said, Yes ! So I told them about Jesus and children & even those tow mums accepted Lord Jesus as their savior. I felt so happy and as I was praising God in my heart, I wan running to my car to leave there for my security. But, My car was broken down and does not working. Suddenly I started to praying and I felt God is telling me Go back to the park! It was so shocking, because of my safety, but I obeyed God and went back to that park. I sow some new children at that moment, so went to them and told them about Jesus, and prayed for them and came back to my car to really leave that area! Suddenly I saw tow boys near my car and called them. So they helped me to turn my car on and left there! At that blessed day I learned that sometimes God let something bad happen in our life to do his great plan! If my car had not broken down, those souls were not saved! We should trust God even in bad situations and know that every thing is in his control.
Thank you so much
May God bless you abundantly
Greetings to you all in the precious name of our Lord and Savior Jesus Christ. It's indeed a great joy for us to be part of the CEF family. God has been so good to us and helped us this year in 20 20. We could be able to reach many, desperately through the CPC. Through 4 online Zoom clubs, we were able to reach 133 children Out of the 25 absolutely different background. Let me tell you from the bottom of my heart. 10 of them from the Hindu background. They never knew who God is, the plan of salvation, the life of Christ and the very purpose of which he came to the world was beautifully portrayed to them through songs and through the very, very powerful lesson. Thank God for that. 15 teachers were volunteers, who came and served faithfully I praise God for that.
Let me also tell you something. It's amazing. God sent money which was required for some other place we never knew that. They said that 30% of this can go to CEF and 70% should go to the orphanage. We never knew who that orphanage was and where it was, what it was when we contacted the orphanage. And then only we came to know that's exactly the amount they were also praying for. God has been marvelously blessing the CEF ministry. And through that we could see that many other ministries were being blessed. Many people and many children are being blessed.
Woman 1
We have conducted the Christmas program club on 19 December 2020. By the grace of God, around 60 students participated in the program. And truly they all had a great time knowing about Jesus the Savior.
Child 1
Related to that, we have done activities. Activities like the castle, then the envelopes, I have wrote the verses. The chain also I have wrote some verses.
Child 2
Hello everyone. It was so interesting. They taught us new activities, songs stories and memory verses.
Woman 2
We could manage to do the Christmas party program as well. And we had many children from non-Christian background who attended. And please pray that God may work in their hearts as well
Man 2
On 26 December 2020, we conducted our Christmas party club. We had 45 children who attended this club and they were really blessed with this wonderful session that we had. The Bible lesson, memory verse and the game. All was really presented well. And it was a really wonderful work of the Lord.
Child 3
I have attended the Christmas party club too, and was touched by the story taught.
Man 1
We thank and praise God for that. All glory to God alone. May He be glorified amen.